The natural beauty and native charm of Charleston, South Carolina will swell your soul. One of the most charming destinations is the Lowcountry, steeped in Southern heritage and historic tradition. This region evokes the feeling of days gone by, and with this inspiration - Charleston Carry™  was created.
THE SOUTHERN SIPPER™
Featured in Garden and Gun Magazine Made in the South Awards
Sweetgrass Bicycle Basket™
The Boho On Broad™
Charleston Carry™  Southern Social Purses feature sweetgrass bangle handles woven by Charleston Market artisans. The purses are hand tailored of Belgian linens, seersuckers and colorful cottons. Signature brass pineapple buttons, by the same USA button maker that handcrafts buttons for revered military academy uniforms, accent the purses. Join us on our cobblestone stroll as we introduce Charleston Carry.
FOR THE BRIDE AND HER WEDDING BELLES
Breeze through your "I Do's" gracefully from the wedding aisle to the honeymoon isle of your dreams with the Aisle to Isle heirloom wedding purse. 
AISLE TO ISLE™
The Wedding Belle purse is the perfect compliment to your wedding couture and more importantly the perfect wedding sercy for your Wedding Belles as a gesture of love and friendship. 
The Wedding Belle™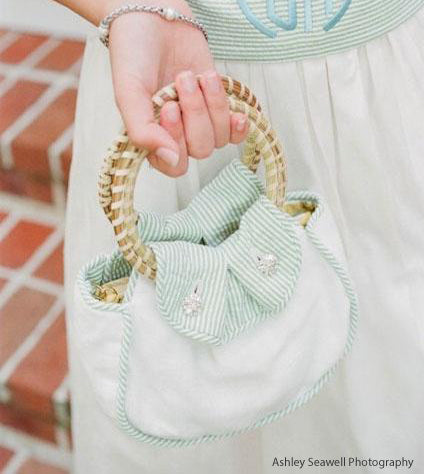 The Charleston Carry Story
Two Sisters, best friends… twins in taste… daughters of design.   
 ... Two Weddings, and a search for 
                     ... the Perfect Heirloom Wedding Purse...
Charleston Carry started as pure and unexpected as a simple sketch of a wedding purse design for a "Sweetgrass & Seersucker Wedding" in the Lowcountry.  
Charleston Carry Story
Sweetgrass Basketry 
We wanted a way to celebrate the handicraft and cultural heritage of these artisans while encompassing the beauty and charm of the Lowcountry.  With this inspiration, Charleston Carry was created. Charleston Carry purses are adorned with sweetgrass handles hand sewn by artisans from the markets of the Lowcountry with 100% of the proceeds from the sweetgrass handles going directly to these artisans to continue to nurture this heirloom art form.   
Sweetgrass Heritage
The Logo Inspiration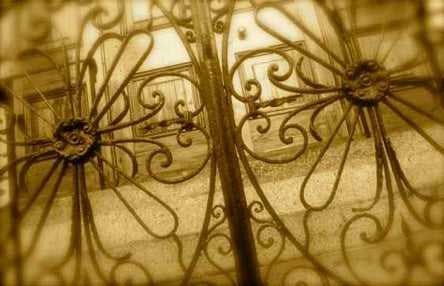 The pineapple, an iconic symbol of hospitality, tradition, and Charleston Lowcountry charm. Charleston, South Carolina; forged with Southern grace and sophistication. If you stroll down the cobblestone streets of Charleston and squint your eyes just right, the scrolls of the St. Philips Gate form romantic double images of the letter C in a strong iron forged script. 
With a bit of creativity, this double C script is sketched, reversed and stacked back to back to create a stately pineapple plumage of what is now known as the Charleston Carry Pineapple. After a bit of magic and graphic wizardry, our simple sketch morphs into a preppy, plump and perky pineapple... poised, proper and ready to grace...